Worst Web Sites 2009
Worst Web Sites 2008
Worst Web Sites 2007
Worst Web Sites 2006
More Bad Web Design
Web Redesign Checklists
Miscellaneous

Back to The Worst Web Design Techniques Featured on Web Pages That Suck in 2005
Should Be a Shoo-In For Next Year's Worst Web Design Techniques Featured on Web Pages That Suck in 2006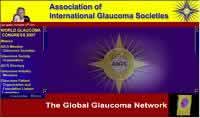 Association of International Glaucoma Societies
Here are the comments from the person who sent in the site:
Between the operatic "Glaucoma Hymn" that downloads and plays as soon as you come to the main page (with no "Stop Playing!" button), the bobbing heads of (what I presume are) the AIGS Board in the upper-left hand corner, and no clear explanation of what this organization DOES on the main page.

My wife thought this page HAD to be a put-on of some kind. She couldn't believe any serious organization would actually design a site that looked and sounded like something Terry Gilliam would've designed in his Monty Python days.
My original comments: I generally only agree 100% with the submitter, but in this case I agree 210%. What were they thinking when they decided on creating this music? What about the horrid use of frames? Who wanted the bouncing heads? What was the meeting like when everyone looked at the site and said, "Damn, we're smooth"? I'm just stunned.
Reader comments: After looking at this site, I have lost all hope for humanity, and seriously considered un-installing my web-browser and moving to the mountains.
Everything about this page makes me sick, from the colors to the animation to hymn playing. Oh wait! that's not all, you can change the music by clicking the giant ugly eye ball! This site is a joke.
---
Oh this gets better. There is indeed a stop button on the lower left hand side, where you can also switch the music to Chopin, Callas or (my personal fave) Elvis singing Suspicious Minds!! What were they thinking???
---
Glaucoma is not a laughing matter, but you'd be forgiven for thinking it was on the strength of this site. Seldom have I seen a site that so comprehensively defeats its own object.
---
Terry Gilliam should not be invoked lightly, but... geez... when they can't bother to convert their directory of member organizations into HTML (worse, in Firefox with JavaScript disabled, the PDF version opens into a frame with no scrollbar), but someone *did* find the time to upload 232 photos from the Imperial Viennese Glaucoma Ball...
---
Well, at least if you can't SEE the web site you can HEAR it. Maybe this was the designer's objective?
Perhaps they think glaucoma sufferers lose their sight AND their minds at the same time?

Back to The Worst Web Design Techniques Featured on Web Pages That Suck in 2005